Depth Registration
Display Formation Names on Straightened Image
Depth Registration
DepthRegistration provides raster image display capabilities for XSection, smartSECTION and GVERSE Petrophysics. Raster images of logs, core, diagrams or any image applicable to a well bore can be imported or opened in DepthRegistration. TIF formats are most common and many other graphic formats are also supported. Images can be registered in depth with DepthRegistration tools. Alternatively, many data vendors such as TGS, and MJ Systems can provide depth registration files to go with image files. Such files from TGS, or MJ systems can be batch imported into DepthRegistration.
Depth Registering the Log Section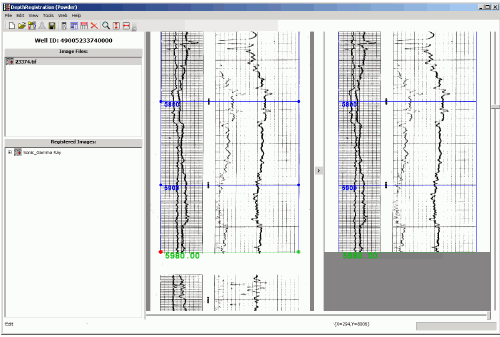 DepthRegistration application allows you to manually depth register a tiff image and assign it to a well in the database. The basic procedure involves loading a raster image and well ID into the application, then picking depth lines on the image and assigning depth values.
Defining the Log Section Header and scale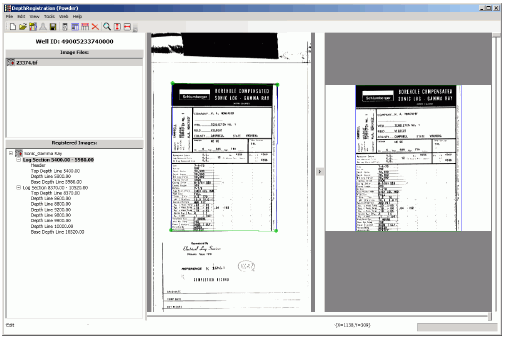 Raster log headers and curve scales are associated with depth registered log sections. Raster curve scales can be displayed on a .prt created in GVERSE Petrophysics for display in GVERSE Petrophysics, smartSECTION, and XSection. Raster log headers are not part of the .prt and are displayed only on smartSECTION cross sections.
Straightened Images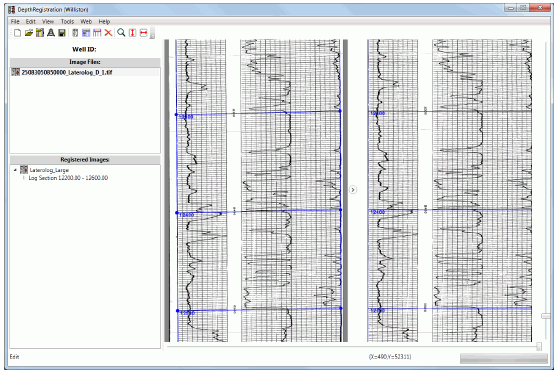 Straightened log section records are saved to the database and are exported with the GGX Depth Registration (DRA) file for use in other applications.
Straightened log section records can be imported and saved to the database using either the GGX (DRA files) or Petra (LIC files) imports.
Image File Home and Scan Tool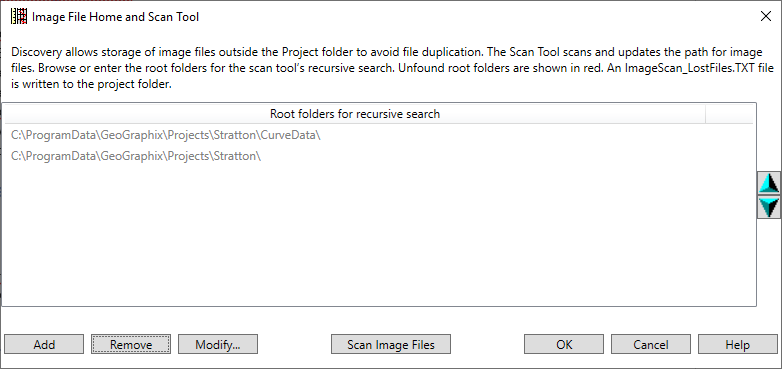 The Image Home and Scan Tool dialog box can be used to locate raster log images, or other image files (core photos, etc) stored outside the project or to relocate missing images that have been moved from their original directory/path locations.
The depth registration information can be saved to the database and displayed on cross sections in XSection, smartSECTION, and GVERSE Geomodeling, or on the Image Track of presentation template files (.prt files) that are created in the GVERSE Petrophysics application.
Use the depth registered raster images in GVERSE Petrophysics .prt to digitize the curves.
Hardware
Minimum
2.4GHz 64-bit Intel class or better
8GB RAM
1,024 x 768 graphics resolution
CD-ROM drive
19-inch monitor
DirectX 11 capable hardware
Recommended
Quad 2.4 GHz 64-bit Intel class or better
16 GB RAM or greater
NVIDIA GeForce or Quadro - 2GB video RAM
DVD-RW drive
Dual 21+-inch monitors
Software
Microsoft® .NET 4.5
GeoGraphix
Microsoft DirectX 11
The LMKR License Management Tool (LMT) must be installed to configure GeoGraphix product licenses
Microsoft DirectX End-User Runtime (June 2010)
Adobe Reader for selected help files (optional)
Operating Systems
Windows® 7 Professional x64
Windows® 7 Enterprise x64
Windows® 7 Ultimate x64
Windows® 10 Professional x64
Windows® 10 Enterprise x64
Note: Refer to the LMKR Customer Support Portal (http://support.lmkr.com/) for up-to-date information on the requirements.